Top 10 Benefits of Availing Loan Against Shares
A loan against your shares is a process through which you can avail of a loan by pledging your shares as collateral. It helps you monetize your investments without selling them off to realize the capital amount.
But what are the advantages of availing Loan Against Shares? Our infographic offers answers.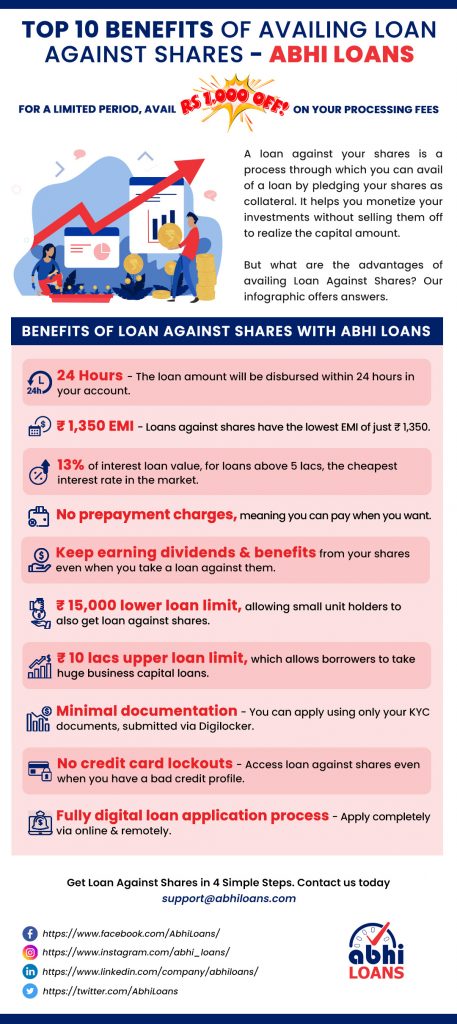 24 Hours – The amount will be disbursed within 24 hours in your account.
Rs 1,350 EMI – Loans against shares have the lowest EMI of just 1,350
13% of interest loan value, for loans above 5 lacs, the cheapest interest rate in the market
No prepayment charges, meaning you can pay when you want
Keep earning dividends & benefits even when you take a loan against them
Rs 15,000 lower loan limit, allowing small unit holders to also get loans
Rs 10 lacs upper loan limit, which allows borrowers to take huge business capital loans
Easy documentation: You can apply using only your KYC documents, submitted via Digilocker
No credit card lockouts: Access loan against shares even when you have a bad credit profile
Fully digital loan application process: Apply completely online & remotely
For More Information, Contact us today:support@abhiloans.com